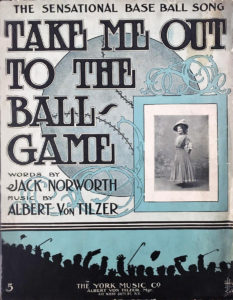 "Take Me Out to the Ballgame" was written in 1908 by Jack Norworth, a Vaudeville star who'd also write "Shine On Harvest Moon" that year.
It was also the year in which Christy Mathewson's New York Giants were embroiled in a season-long three-way pennant race with Honus Wagner's Pittsburgh Pirates and the Chicago Cubs, the defending champs of Tinker-to-Evers-to-Chance.
As the origin story goes, Norworth was riding the subway – perhaps to the Broadway area to perform later that evening – when he saw an advertisement for the Giants playing at Polo Grounds. The lyrics came to him in a flash and right there on the subway, like Lincoln on the train to Gettysburg, wrote out the song out nearly perfectly along with a doodle or two in 15 minutes flat.
A musician named Albert von Tilzer wrote the music, the song was performed live on stage shortly thereafter and literally within days "Take Me Out to the Ball Game" or barely-disguised imitations were being performed in other theatres by other performers.
The three labels pressing records in those days, Edison Recordings, the Columbia Phonograph Company and the Victor Talking Machine Company, all released versions of the same song. We have no reliable numbers on how many copies were sold, but we do know that *six million* copies of the sheet music were sold – that's one per 15 people in the entire U.S.
The song – or at least part of it – was first known to be played at organized ball games in 1934. That year, major league club owners and league presidents adopted it as baseball's official anthem. Under this designation, "Take Me Out to the Ball Game" was played for game four of the 1934 World Series, with the "Gas House Gang" St. Louis Cardinals lost 10-4 to the Detroit Tigers of Hank Greenberg, Mickey Cochrane and Charlie Gehringer. After the game, none other than Grantland Rice remarked:
The Cardinal band played: "Take Me Out to the Ball Game" before the battle started. The way the Cardinal pitchers came and left, they should have played "Take Me Out of the Ball Game."
The famous refrain of the song is one of pop music's all time great earworms, instantly learned upon first hearing which, if you're lucky, happens in the midst of a throng of baseball fans belting out the lyrics with gusto if not technical artistry. But remember: "Take Me Out to the Ballgame" was never just a commercial jingle or an official anthem. It's a singalong pop song, with a whole two verses beyond the eight lines everybody knows.
Here's the entire song, as sung by Edward Meeker for Edison Recordings; lyrics follow.
Katie Casey was baseball mad
Had the fever and had it bad
Just to root for the home town crew
Ev'ry sou
Katie blew
On a Saturday her young beau
Called to see if she'd like to go
To see a show, but Miss Kate said "No
I'll tell you what you can do:"
Take me out to the ball game
Take me out with the crowd;
Buy me some peanuts and Cracker Jack
I don't care if I ever get back
Let me root, root, root for the home team
If they don't win, it's a shame
For it's one, two, three strikes, you're out
At the old ball game
Katie Casey saw all the games
Knew the players by their first names
Told the umpire he was wrong
All along
Good and strong
When the score was just two to two
Katie Casey knew what to do
Just to cheer up the boys she knew
She made the gang sing this song:
Take me out to the ball game
Take me out with the crowd;
Buy me some peanuts and Cracker Jack
I don't care if I ever get back
Let me root, root, root for the home team
If they don't win, it's a shame
For it's one, two, three strikes, you're out
At the old ball game